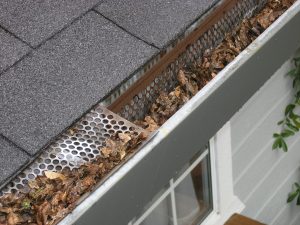 As we head into winter, it's important to take proper care of your roof in order to avoid damage and leaks.
The Impact Gutters Have on Your Roof
Gutters aren't just about curb appeal, nor are they just a nuisance that gathers leaves, birds, and rodents.
Your roof sees its fair share of precipitation, and all that water needs to go somewhere. Your gutters' job is ensuring it goes where you want it — away from your house — so it's not sneaking up under your roof, damaging your siding, undermining your yard, or endangering your foundation.
The bottom line: take care of your gutters and they'll take care of you and your home!
Professional Gutter Installation
Gutters look deceptively simple, to the point you wouldn't think there's much to installing them. But there are many considerations to ensure that they work properly. That means not only choosing the right type and size, but also the right mounting, and the correct drainage so they do the job they're designed for. Make sure you hire a trained contractor who specializes in gutter installation to get the job done right.
Leaf Guard Installation
Nobody likes cleaning gutters. That's why we love leaf guards. Installed correctly, they keep leaves, debris, and critters out of your gutters. That means less cleaning, fewer repair issues, and giving your gutters a fair shot to do their job better, longer.
Gutter Repair
Even the best-installed gutters need to be repaired every now and again. Sometimes it's a severe hailstorm, an errant branch, or damage from a ladder because someone got clumsy cleaning their gutters (see why we like those leaf guards?).
Why Choose All Craftsmen Exteriors?
If your having issues with your roof because of poor gutter maintenance we can help with all your roofing needs.  We have experience working directly with homeowners, landlords of multi-family properties, and HOAs. From our Burnsville office, we serve businesses and homeowners throughout the Twin Cities area. We're licensed (MN License # BC579604), insured, and certified.
Our people are courteous, knowledgeable, and conscientious. It's why people have relied on us for more than a decade.
How Can I Get in Touch with All Craftsmen Exteriors?
It's easy. Call our Burnsville, MN location at 952-898-4680 or our Fort Worth, TX location at 682-841-7334. You can also fill out our convenient online form to request a free estimate.